Archive | May, 2013
30
May
GMTMA is very excited to be participating in the first ever Toyota MPG Challenge for the month of June. For the Challenge, Toyota provided us with a new Toyota Plug-in Prius "Cool Car 99" for our RideProvide senior transportation service.
Our drivers will be competing against six other deserving nonprofits in the NY, NJ, CT area for a $2,500 cash contribution and bragging rights that go to the nonprofit which can get the best overall gas mileage. And these cars can get great gas mileage! On gasoline alone, the Plug-in Prius can get an EPA estimated 50 MPG (miles per gallon), and with electricity and gasoline combined an estimated 95 MPGe (miles per gallon equivalent).
This Challenge is a great opportunity for RideProvide to use a very fuel efficient vehicle for transporting seniors and the visually impaired where they need to go and for GMTMA to promote the use of alternative fuel vehicles. We hope to show that anyone, no matter how many or few miles they drive, can use hybrid electric or other alternate fuel vehicles right now in New Jersey. The vehicles not only help the driver by saving money on fuel, they also help decrease air pollution and decrease the individual's carbon footprint.
So be on the lookout for "Cool Car 99" driving around Mercer County! If you see it, snap a picture and let us know!
If you have any questions about "Cool Car 99" and the Toyota MPG Challenge, please contact Aly Dyson at adyson@gmtma.org.
24
May
NJ Transit will be offering extra trains and buses to patrons leaving work early Friday for Memorial Day weekend, according to a press release Monday.
Extra outbound trains will operate on the Northeast Corrider, North Jersey Coast, Raritan Valley, Morris & Essex and Port Jervis lines starting around 1 p.m. Additional buses will also be operating from the Port Authority Bus Terminal on over three dozen bus routes starting around noon, according to NJ Transit.
On Memorial Day, trains will operate on a weekend/major holiday schedule on all lines, according to NJ Transit. Hudson-Bergen Light Rail will operate on a weekend schedule, Newark Light Rail will operate on a Saturday schedule and River Line will operate on a Sunday schedule. Bus schedules vary by route, and each schedule can be found here.
Every weekend families riding on NJ Transit can save on their tickets with the Family Super Saver Fare, which allows two children 11 and younger to travel free with each fare-paying adult.
For the Memorial Day holiday weekend, the program will be extended and in effect from 7 p.m. Friday, May 24 until 6 a.m. Tuesday, May 28, according to NJ Transit.
Additional details and timetables can be found online at njtransit.com.
14
May
Come celebrate bicycling and call for more designated bicycle lanes in Trenton on Bike to Work Day – Friday May 17 – with the Greater Mercer Transportation Management Association (GMTMA) and the Trenton Cycling Revolution (TCR) as they host a "Brunch for Bikers" from 11:30 am – 1:00 pm.
The organizations will be offering free snacks and drinks to anyone who rides a bike to the event location at the corner of Market Street and South Warren Street in Trenton.
GMTMA and TCR also will use the occasion to join with other bicycling advocates and organizations to commemorate the recent establishment of designated bicycle lanes in Trenton and advocate for further bicycle-friendly facilities and projects in New Jersey's capital city.
Trenton recently completed a multi-faceted "Trenton Gateway Project" that made a series of roadway, sidewalk, transportation-safety and streetscape improvements along portions of Market Street, South Warren Street, New Warren Street, and Lincoln Highway.  The project included the establishment of the first designated bicycle lanes in downtown Trenton, as well as bicycle rack installations in a new pocket park across from the newly opened Mercer County Criminal Courthouse.
The project was carried out by the city with a grant from the Delaware River Joint Toll Bridge Commission.  To commemorate the inaugural network of bicycle lanes, Bridge Commission representatives will be on hand to officially convey project-designation signs to Trenton City Councilwoman Marge Caldwell-Wilson Representatives from the New Jersey Department of Transportation will also be in attendance.
"Bike to Work Day is a great opportunity to celebrate the unique power of the bicycle, the many reasons we love to ride, and highlight why bike riding is so great for your health, your community, and the environment," said Rebecca Hersh, GMTMA's Transportation Program Coordinator.
"Trenton is slowly but surely becoming a bike-friendly city," said Dan Fatton, Chair of the Trenton Cycling Revolution. "With the city's Complete Streets policy recently being ranked 8th best in the country, there is a real opportunity for Trenton to showcase proper implementation and create streets that work for everyone."
14
May
While today is clear and crisp, New Jersey's ozone season is here, and will continue through September 6th. We are grateful that we haven't had any Air Quality Action days yet, but we know they will come soon, and everyone should be prepared.
Action days are usually called on days when the hot summer air combines with the pollutants in the air, causing the air quality to be unhealthy to breathe.
A great way to be prepared and help clear our air is have your business get involved with the NJ Transit OzonePass program. This program encourages people to ride transit (which creates much less air pollution than driving in cars does) by offering bulk quantities of transit passes for $3.00 round trip. The passes are valid for NJ Transit buses, trains, and light rail. The tickets are only available through businesses for use within New Jersey (not to New York or Philadelphia) on declared Air Quality Action Days.  For more information, please contact Aly Dyson at adyson@gmtma.org.
Want to know when an Air Quality Action day has been declared? Click here to sign up for the Air Quality Action Day Alerts.
Learn more about air quality and what you can do to help.
10
May
Greening Your Fleet
It's possible for businesses to demonstrate their commitment to the environment every time their employees drive. Hybrid and electric vehicles, natural gas or biodiesel fuels are some of the options available for a businesses' "Green Fleet." From finding affordable and efficient vehicle options, to researching "green" vehicle choices, to educating employees on fuel-conserving driving techniques, GMTMA can help your business get on the right road. The less fuel you use, the bigger your savings, and the greener you will be! For more information contact Aly Dyson at adyson@gmtma.org..
---
Become a Savvy Cyclist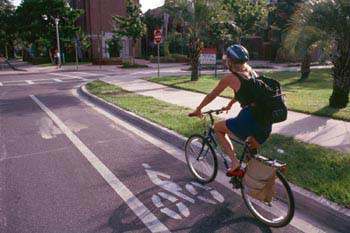 Want to bike to work but don't know where to start? Nervous about riding your bike in traffic? What happens if your bike breaks down mid-ride? If any of these questions sound familiar to you, GMTMA can help. GMTMA has a League of American Bicyclists Certified Cycling Instructor on staff, and we are offering "Bike Safety 101 Lunch & Learn" sessions at businesses around our region. Depending on time constraints, courses could cover topics such as:
ABC Quick Check: Simple bike maintenance
Helmets: Should I wear? How to fit
Hand Signals: Common signals everyone should know
Be Safe – Be Seen: Lights & reflectives
What to Bring: Clothing, equipment & nutrition
Lane Positioning: Navigating traffic safely
Office Etiquette: Changing, storing bike & clothes
Emergency Ride Home: What to do if bike breaks down
Routing Assistance: What's the best route for me?
Want to learn more? Contact us today!
---
It's Bike Month…There's Still Time to Sign Up!
National Bike Month is finally here – join in on the fun!
And there's more! Click here to view all of our Bike Month activities.
For registration and general info on all these events and assistance with any bike-related activities, please visit GMTMA's website at www.gmtma.org or contact Rebecca Hersh at rhersh@gmtma.org.
---
Helping Girl Scouts Clear the Air
Greater Mercer TMA recently assisted a troop of 6
th
grade Girl Scouts in West Windsor with their "Project Breathe" journey. Project Breathe is a project designed to educate the scouts about all aspects of air; GMTMA participated by explaining to them how their transportation choices, purchasing habits, and other every day activities can effect air quality.
The scouts learned about how taking the bus, carpooling, biking or walking to school and other activities, instead of having a parent drive them alone, can be great for air quality. They learned about the air quality impacts of things like electricity use, trash and recycling, and consumer products.
The girls really enjoyed an experiment where they add "air pollution" food coloring to their "air-shed" cup of water to show how daily activities can create air pollution. For example, while most of the girls rode the bus to school, one was picked up from school in a car. They learned that this one car trip created more air pollution than the bus trips, so that girl added more "pollution" to her cup. The simple and fun experiment helped them understand that seemingly small actions like getting a ride instead of taking the bus can create more air pollution in their town. They also learned about the air quality impacts of vehicle idling, and we are sure that these girls will be nagging their parents to turn off their car engines from now on!
Greater Mercer TMA is available to make similar presentations to other scout troops, classrooms, camps, and after school programs in order to educate children about air pollution and transportation issues and how each person, no matter how young, can make a difference.  For more information contact Aly Dyson at adyson@gmtma.org.
---
The Colors Are Back for Ozone Season
You're going to start seeing colors again when you watch and listen to the news and weather. The colors don't represent the flowers that are in bloom (though they are very pretty); the colors represent the air quality for the day. Ozone season in our area runs from May through September because there is a greater chance for high ozone and high air pollution levels during this time.
The colors help you decide if you should take a long run after work, call your neighbor and try to carpool the following day,  take public transportation, or decrease the kids' workout at soccer practice.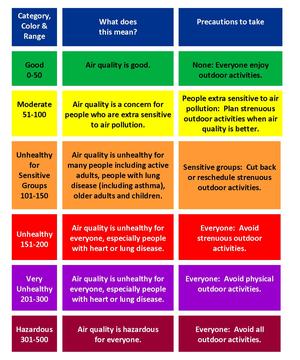 Most days are going to be code green or yellow, but when there are code orange or red days, everyone needs to do their part by taking action to decrease air pollution. Things that everyone can do include:
Drive less – use public transportation, carpool, put off a trip until the next day.
If you have to drive:  No Idling! And make sure your tires are properly inflated.
Telecommute – even one day a week helps decrease air pollution.
Trip chain – do all your errands in one trip, don't keep going out over and over.
Most importantly, always know the Code! Sign up for air quality alerts emailed right to you at www.enviroflash.info
For more information go to: http://www.gmtma.org/pg-community-air-quality.php